It's a Top Ten twofer in this Sunday's New York Times Book Review where Walter Kirn reviews Stephen King's new novel, Joyland.
Walter describes the book, which has a classic pulp cover, as a "nostalgic new summer novel about the adventures of a lovelorn college boy in a haunted Southern amusement park. The book delivers chills, not shocks, and is silly-scary in the manner of a yarn that a sophomore might tell a freshman while toasting marshmallows around a fire. It's an exercise in mock-Gothic Americana whose tone is more important than its plot, mostly because it barely has a plot, only occasional drafts of chilly menace. For most of the book, there's not even a villain, just a diffuse sense of fairground creepiness that takes the place of a specific evildoer."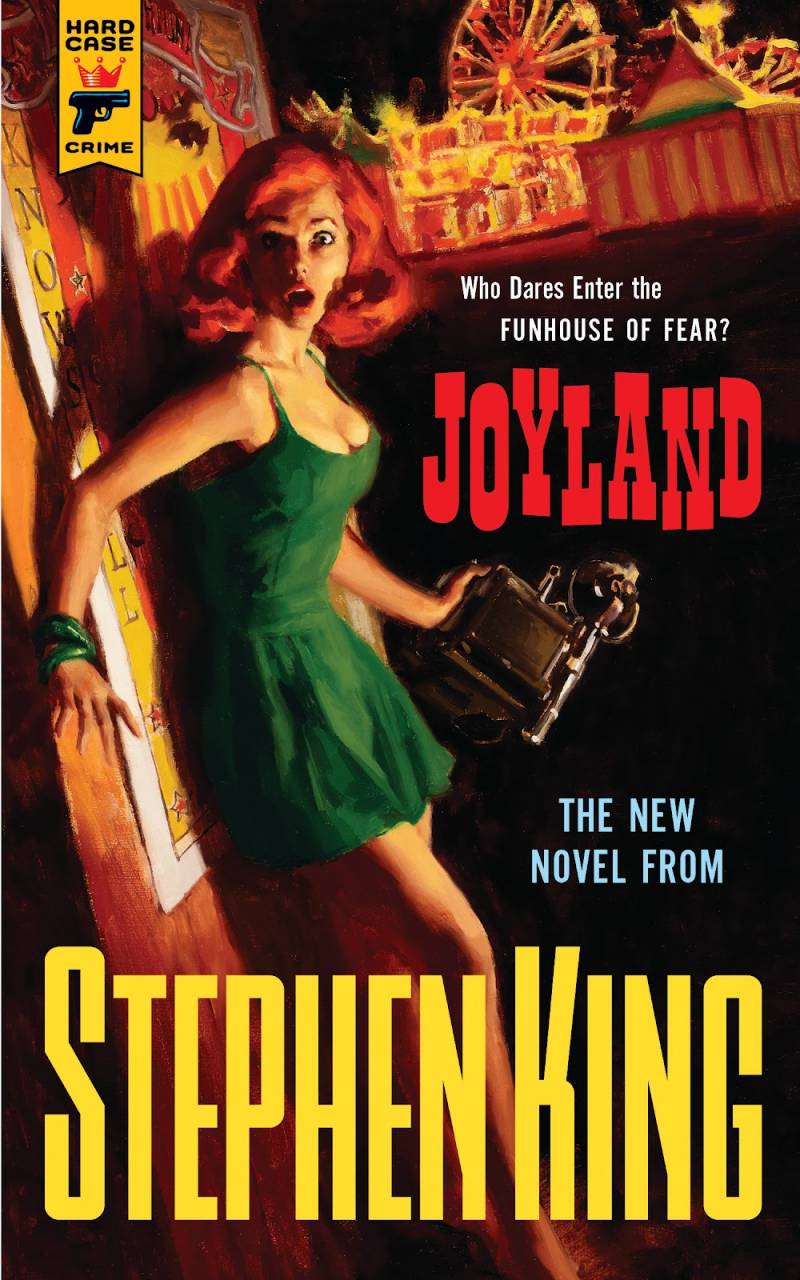 He ends the review with this tasty image: "The novel is like a plump wad of cotton candy; it fills the mouth with fluffy sweetness that quickly dissolves when the reader starts to chew. That's by design. King's ambition this time around isn't to snatch us and hold us in his grasp but to loft us up high, then briskly set us down the way a Ferris wheel does. Or a first love."
Here is Steve's list and his brief appreciation of his top pick, followed by Walter's list.
Stephen King's Top Ten List
1. The Golden Argosy by Van H. Cartmell & Charles Grayson, editors.
2. Adventures of Huckleberry Finn by Mark Twain (1884).
3. The Satanic Verses by Salman Rushdie (1988).
4. McTeague by Frank Norris (1899).
5. Lord of the Flies by William Golding (1955).
6. Bleak House by Charles Dickens (1853).
7. 1984 by George Orwell (1948).
8. The Raj Quartet  by Paul Scott (1966–75).
9. Light in August by William Faulkner (1932).
10. Blood Meridian: Or the Evening Redness in the West by Cormac McCarthy (1985).
Appreciation of The Golden Argosy by Stephen King
I first found The Golden Argosy in a Lisbon Falls (Maine) bargain barn called The Jolly White Elephant, where it was on offer for $2.25. At that time I only had four dollars, and spending over half of it on one book, even a hardcover, was a tough decision. I've never regretted it.
Originally published in 1947 and reissued in 1955—but not updated or reprinted since—­The Golden Argosy is an anthology of roughly fifty-five short stories. The editors made no pretensions to "quality fiction," but simply tried to publish the best-loved stories published in the nineteenth and twentieth centuries, up to the post–World War II period.
Though it is in terrible need of updating (there is no Raymond Carver, for instance, no Joyce Carol Oates, because such writers came along too late for inclusion), it remains an amazing resource for readers and writers, a treasury in the true sense of the word, covering everything from sentimental masterpieces such as Bret Harte's "The Outcasts of Poker Flat" to realistic character studies such as "Paul's Case" by Willa Cather.
Every reader will find glaring omissions (Dorothy Parker's "Big Blonde," for instance), but you've got your Faulkner classic ("A Rose for Emily"), your Hemingway ("The Killers"), and your Poe ("The Gold-Bug"). It includes "The Rich Boy," in which F. Scott Fitzgerald famously observes "the rich are different from you and me," and overlooked gems from writers such as Sherwood Anderson ("I'm a Fool") and John Collier ("Back for Christmas").
The Golden Argosy taught me more about good writing than all the classes I've ever taken. It's the best $2.25 I ever spent.
Walter Kirn's Top Ten List
1. The stories of Flannery O'Connor (1925–64).
2. The Killer Inside Me by Jim Thompson (1952).
3. Norwood by Charles Portis (1966).
4. Under the Volcano by Malcolm Lowry (1947).
5. Lolita by Vladimir Nabokov (1955).
6. The Postman Always Rings Twice by James M. Cain (1934).
7. Jesus' Son by Denis Johnson (1992).
8. Miss Lonelyhearts by Nathanael West (1933).
9. Adventures of Huckleberry Finn by Mark Twain (1884).
10. Portnoy's Complaint by Philip Roth (1969).