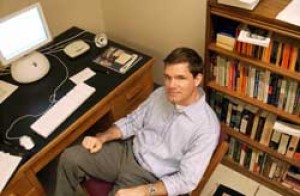 Our 160th list (!) comes from Porter Shreve, whose latest novel, his fourth, is a splendid book about books that seems straight out of (or straight into?) Top Ten Land. The novelist Brock Clarke says it is "a remarkable novel about the huge promises fathers and sons, writers and readers, books and characters make to each other," while the writer Antonya Nelson compares it Michael Cunningham's homage to Virginia Woolf, The Hours.
The End of the Book is the story of an aspiring contemporary writer, Adam Clary, who may or may not be writing a sequel to a Sherwood Anderson's 1919 novel, Winesburg, Ohio. Clary works in Chicago for a famous Internet company on a massive project to digitize the world's books, but secretly he hates his job and wishes to be a writer at a time when the book as physical object and book culture itself have never been more threatened.
Counterpointing Adam's story is that of George Willard, the young protagonist of Anderson's book, who arrives in Chicago around 1900 when it was the fastest growing city in the history of the world. Through alternating chapters, we follow George's travails, including his marriage to the wealthy daughter of his boss, his affair with his hometown sweetheart, his artistic crisis, breakdown and flight, and along the way we see the echoes and intersections between his life and Adam's struggling in two similar Americas, two similar times in the life of the book."
In her Cleveland Plain-Dealer review, Evelyn Theiss calls The End of the Book "a brilliant coda to Winesburg, Ohio that is worth anticipating." She also recommends reading Anderson's first "for deeper appreciation of the details of Shreve's novel."
Porter's debut novel, The Obituary Writer (2000), was a New York Times Notable Book. His second and third novels, Drives Like a Dream (2005) and When the White House Was Ours (2008), were Chicago Tribune Books of the Year. He has also edited six anthologies, including Contemporary Creative Nonfiction: I & Eye (2004) and 30/30: Thirty American Stories from the Last Thirty Years
 Porter Shreve's Top Ten List
1. Don Quixote by Miguel de Cervantes (1605, 1615).
2. Pride and Prejudice by Jane Austen (1813).
3. Great Expectations by Charles Dickens (1860–61).
4. The stories of Franz Kafka (1883–1924).
5. Winesburg, Ohio by Sherwood Anderson (1919).
6. Invisible Man by Ralph Ellison (1952).
7. The stories of Flannery O'Connor (1925–64).
8. Song of Solomon by Toni Morrison (1977).
9. One Hundred Years of Solitude by Gabriel García Márquez (1967).
10. The White Tiger by Aravind Adiga (2008).